Bana Linga - Bhubaneswar
Sunday, 12 October 2014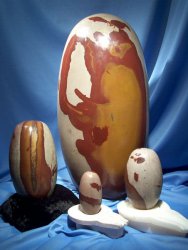 Item details
City:
Bhubaneswar, Orissa
Contacts

info@occulttreasures.com

9437020474
Item description
Suppose to be a celestial matter from other world. Sacred and self-manifest representations. The bana-lingas are stones found only in the Narmada river.



If the Shaligram are stones found only in the Gandaki river, the bana-lingas are stones found only in the Narmada river, although, according to some texts (as for instance Kalottara, sited in Viramitrodaya), the bana-lingas are obtained not only from the river Narmada but also in the rivers Ganga, Yamuna and other holy streams. There is a story narrated in Aparajita-pariprchchha (205, 1-26) about the origin of the bana-lingas or Narmada linga and their association with the Narmada river. Siva wanted to destroy the 'tri-pura', which had been obtained as a boon by the arrogant demon Banasura, and he let go a fiery dart from his great bow 'pinaka'. The dart broke the three 'puras' into tiny bits, which fell on three spots: 1, on the hills in Sri-kshetra (of unknown identity), 2, on the peaks of Amarakantaka in the Vindhya ranges, and 3, on the banks of the holy river Narmada. The bits that fell in these places soon multiplied into crores,. each bit becoming a linga.