Kurma Mukta (tortoise pearls or celonitis - Bhubaneswar
Friday, 13 December 2013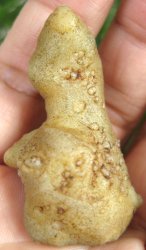 Item details
City:
Bhubaneswar, Orissa
Contacts

info@occulttreasures.com

9437020474
Item description
A stone in the brain of a Tortoise was said to have the efficacy of a fire-annihilator in extinguishing flames ; whoever did, at a proper time (having first washed his mouth), carry it under his tongue felt a divine inspiration to foretell future events. The time for this was the whole day of the first new moon. Kurma as a Avtar of Vishnu gives great stability, wealth, power and position. It has unusual disease curing ability and confers great longevity.
Tortoise In China, a favorite symbol, and Confucius regarded it as sacred; in India the same veneration is given to it, for in one of the preceding manvantaras Vishnu is said in the Puranas to have taken the form of a tortoise to uphold the earth and its beings; his second avatara is called the Tortoise or Kurma avatara. The Satapatha-Brahmana tells of the collective creator, Prajapati, taking the form of a tortoise to create offspring, and it states that the name of one of the celebrated rishis, Kasyapa, means a tortoise. Also in Hindu astronomy the tortoise is prominent, for the host of stars and constellations are regarded as being placed on a rotating belt in the figure of a sisumara or tortoise.